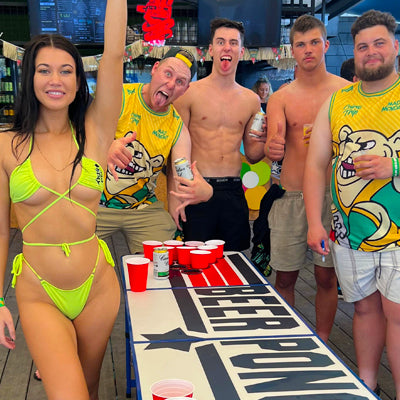 Gold Coast footy trips are a popular tradition among Australian footy teams. The Gold Coast, located in Queensland, offers a beautiful destination for teams to unwind after a long and grueling season. The city is known for its stunning beaches, beautiful weather, and vibrant nightlife, making it the perfect location for players to celebrate their successes and let loose after a hard-fought season.
The Mad Monday footy trip typically involves a range of activities that cater to both the players' relaxation and their desire for adventure.
Of course, no Mad Monday footy trip would be complete without some wild nights out on the town. The Gold Coast is renowned for its nightlife, with a plethora of bars, nightclubs, and pubs to choose from. Teams can hit up the famous Cavill Avenue, a bustling strip of bars and restaurants, or head to one of the city's many rooftop bars for some beers with a view. Whatever the preference, there is something for everyone on the Gold Coast.
Gold Coast footy trips are not just about letting loose and having fun, however. They also provide an opportunity for players to bond with their teammates and forge deeper connections. This is particularly important for teams that may have struggled throughout the season and need to rebuild their cohesion and camaraderie. Footy trips are a chance for players to get to know one another outside of the high-pressure environment of the game and build relationships that will serve them well on the field.
In conclusion, Mad Monday footy trips are an iconic tradition in the world of Football. They offer players a chance to relax, explore, and let loose after a long and grueling season, all while bonding with their teammates and forging deeper connections. It's no wonder that so many teams choose the Gold Coast as their destination of choice for this beloved tradition.